Spypoint Link-Micro-LTE Cellular Trail Camera
Advantage
0.5s trigger speed
Ultra compact
LTE photo transmission
80' detection range and flash range
Spypoint Link-Micro-LTE Cellular Trail Camera: A Superior Device For Tracking And Capturing Images
Trail cameras are always a great helper when you want to keep track of creatures in the wildlife or keep an eye on your property when you're away. Over the years, trail cameras' quality has been taken to a very high level and modern trail cameras can perform many things that haven't been witnessed in the past. Spypoint Link-Micro-LTE Cellular Trail Camera can proudly proclaim itself as one of those innovative cameras.
To offer their customers the best and most complete scouting program, Spypoint has been constantly refined and advanced their products. Gradually, their relentless attempts turn them into an industry-leading name in their field, and the Spypoint Link-Micro-LTE Cellular Trail Camera is one of the significant contributors to their success. The Link-Micro-LTE cements the legacy of the MICRO family by offering superb performance at an affordable price. Let's take a look at our Spypoint Link Micro LTE review to explore how much you can gain from this Spypoint Trail Camera.
Outstanding features
Ultimate compact design
Size is a crucial aspect of any scouting device. And this Spypoint Cellular Trail Camera can pride itself on its superbly compact design. Such a small and simple design makes this camera easy to conceal, thus preventing prying eyes from spotting the camera. I love the feeling of carrying this device since it's small and fits my hand perfectly. Also, this trail camera's simplified and user-friendly platform removes the worry of a complicated setup for those unfamiliar with these types of devices. Hence, the Spypoint Link-Micro-LTE is much valued to both tech-savvy hunters and newbies.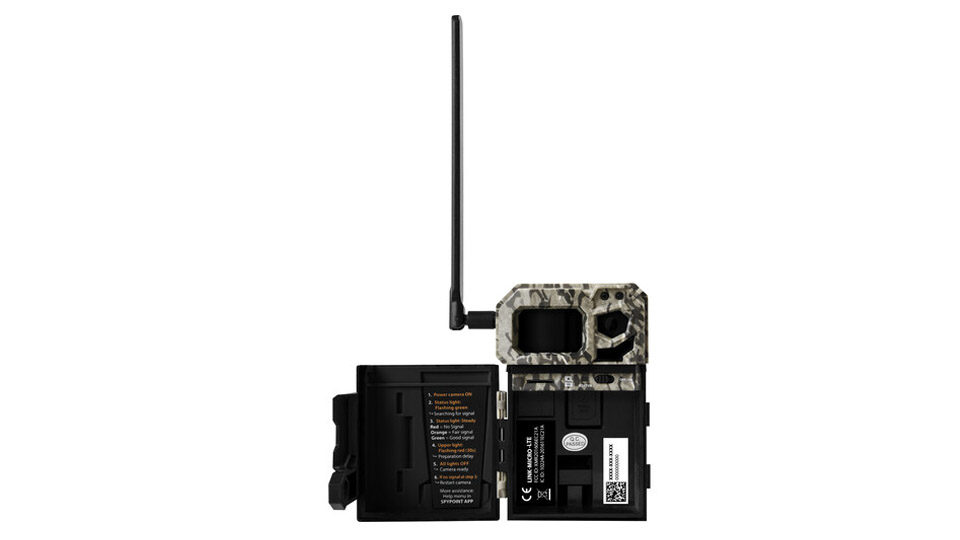 Spypoint Link-Micro-LTE Cellular Trail Camera Review by TopFreeReviews
High-resolution images
The combination of the most popular cellular trail camera in years and the reliable LTE network results in the Spypoint Link-Micro-LTE - a product that challenges the performance of traditional trail cameras. Once you mount this device to any place you see fit, it's ready to track and scout your target. With the 0.5-second trigger speed and detection and flash range up to 80 feet, the Link-Micro-LTE can produce highly pixelated images and covers a wide range of space and area.
Powerful battery life
You'll need 8 alkaline AA batteries or a LIT-10 battery pack to activate this device. Besides, the Link-Micro_LTE is also equipped with a DC 12V input for external power. Remember to buy it before you perform the Spypoint Link-Micro LTE setup because the battery isn't included in the product package. The ultimate compact size of this product also optimizes the performance of batteries, giving you long hours of using the camera without having to check the battery level.
Full control with Spypoint app
You will manage all the camera settings via one medium only: the Spypoint app. What you need to do is download the app and complete the registration process for access to the Link-Micro LTE setting. Once you're done with the registration, all the images of your target in full HD will be transmitted to your app, so you don't need to spend any time returning to the setting place to recover your card.
Long-term warranty
Not many companies offer a more-than-one-year warranty for their products, but Spypoint does. The Link-Micro-LTE goes with a 2-year warranty, ensuring that all of the Spypoint Link Micro problems you encounter will be solved effectively by the Spypoint's service staff. This is one of the biggest perks when you buy the product of Spypoint.
Is the Spypoint Link-Micro-LTE worth it?
During a week of testing to compile feedback into this Spypoint Link Micro LTE review, our staff agreed that the Spypoint Link-Micro-LTE Cellular Trail Camera produced the desired results in images and tracking. You can also have full HD pictures of whatever you keep track of, and even the daylight pictures are not grainy at all. Tech-savvy hunters will love this product, and new users will appreciate the simple interface and instructions on the setup process this product can offer. So our answer is a big Yes for those who ask whether they should give this trail camera a shot.