LinkedIn Photography Courses
Advantage
Certificate of completion
Personalized for you
Practice what you learn with exercise files and course quizzes
Learn on your time with bite-sized videos or in‑depth content, audio‑only or offline viewing
Stand out by earning certificates to add your LinkedIn profile
Linkedin Photography Courses - Diverse Learning Resources
Studying photography through photography courses now offered through online learning platforms like LinkedIn Learning gives students access to a wealth of knowledge at an affordable price.
A full-time job, taking care of a family, or simply having a tight schedule can cause barriers to one's passion. That's why over 16,000 free courses for a university through LinkedIn Learning have stirred student excitement despite its rather limited scope.
Best LinkedIn Photography Courses
The good news is that whether we have never taken a photography course before or we are an expert just starting, we can take LinkedIn photography courses at a reasonable cost through LinkedIn Learning to hone our skills for our projects or even our own business.
These LinkedIn learning photography courses cover what users need to know about online photography courses if they're worth it, and our editorial picks on LinkedIn Learning.
Intro to Photography
If you are new and don't know where to start, this course is a logical choice because it comes with eight-chapter quizzes and is a great overview. It took us less than two hours to read the whole thing and start having a brief but still quite comprehensive look at photography. We learned the basics of digital photography: camera settings, focus control, composition, and flash. Additionally, we see that users will also benefit from insights for photo retouching and portrait photography.
Photoshop Essential Training: The Basics
The Photoshop Essential Training course lasts approximately six hours and covers everything students need to know to get started with Photoshop. We learned the basic tools, must-have skills like cropping, editing, and transforming images, and how to use the Photoshop interface. These comprehensive and accessible best LinkedIn learning courses teach how to edit photos, use different layers, and get the most out of essential Photoshop skills. Learners will have a hands-on project, eighteen quizzes, and a certificate of completion in addition to the video lectures.
Learning Food and Drink Photography
The Learning Food and Drink Photography course is suitable for both beginner and intermediate photographers in under two hours. It can be used for both the food and business industries, and even journalism because it focuses on food photography. The LinkedIn photoshop course not only provides a fun introduction to food and drink photography, but also demonstrates techniques for bringing out the colors, shapes, and textures of food. This course is known as a great introduction to food and drink photography styling and staging led by food photographer Bill Robbins.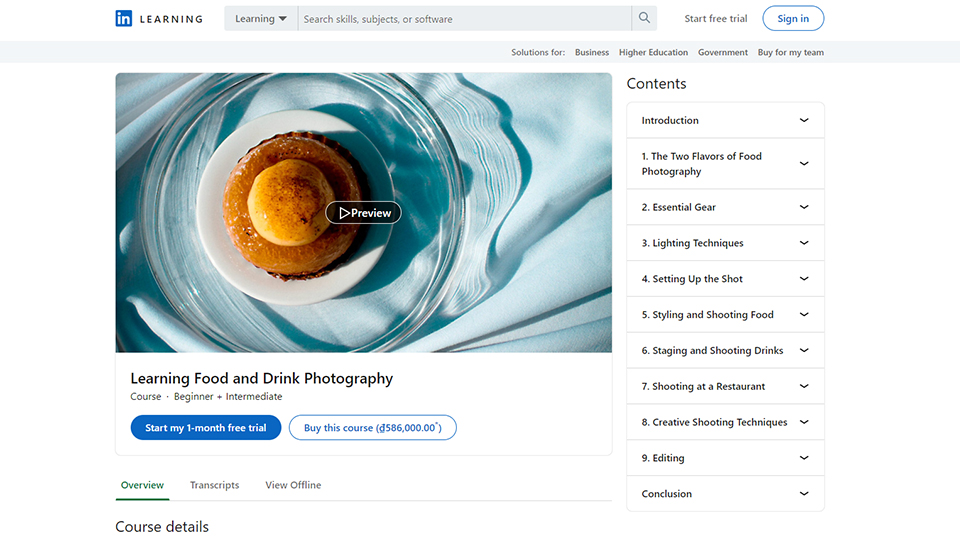 Linkedin Photography Courses Reviews by TopFreeReviews
Reasons to choose Linkedin
LinkedIn is one of the best online networks to grow your professional network, build a career, and find new job opportunities. Because of the benefits LinkedIn offers, we've found that everyone over the age of 20 with career aspirations should have a LinkedIn account.
Reputable website
Launched in 2003, LinkedIn is not only a place to connect professionals but also part professional networking site, part social networking site, and part job board. A colleague of mine always uses LinkedIn as an alternative to paper business cards because paper business cards almost always expire within a year. Users can stay in touch with people from previous jobs, school, volunteer work, and professional groups, and LinkedIn motivates them to keep their contact information up to date.
People in your network can find you if you keep your LinkedIn profile up to date. LinkedIn removes some protections that give you privacy from people you don't know if you choose and facilitates communication between professionals.
Quick and simple setup
LinkedIn learning best courses offer a ton of settings to customize and features to explore. Premium membership options are more tailored to specific types of users and have changed a lot in recent years.
Users will get a lot from LinkedIn with just a few simple steps like setting up an account, customizing some settings, and leaving it alone until moving on to the next career. While job seekers and recruiters may find that updating their accounts is essential, most users won't need to take care of their LinkedIn accounts every day.
Practical features
LinkedIn is like any other online site: new users can set up a free LinkedIn account and create an online profile similar to a resume. However, it doesn't frame an exhausting list of favorite movies, bands, and quotes as proof of a person's character, but emphasizes work experience, skills, professional relationships. occupation, and job title.
I've tried adding multimedia to my profile to showcase articles I've written or written about me, videos I've created, and other standout moments. To set up these multimedia sections, read my tips and advice for getting the most out of LinkedIn learning photography.
All-round performance
While users often want to fill out their profile completely to get all the website has to offer, LinkedIn requires little more than an email address and password to get started. As I mentioned above, the summary and work history are prominently displayed and the profile is similar to a resume. Until users fill out their profile 100 percent, the site will prompt them periodically to complete the process of uploading other information about themselves, including photos, which is mutually beneficial. You will get more out of the site once your profile is complete, and of course, the more user data LinkedIn has, the better the experience it offers.
Improved design
The LinkedIn website is designed with a slightly hectic interface. However, LinkedIn's Android app and iPhone app recently got a much more modern rhythm along with other improvements. A member of our test team was disappointed with them in the past, but he was excited to try out LinkedIn's newly updated mobile apps. I hope some of those updates make their way to the main LinkedIn site soon.
We hope our LinkedIn learning reviews are useful to you!