Browning Defender Wireless Cellular Trail Camera
Advantage
Long range infrared illumination at night
0.3 - 0.7 second adjustable trigger speed
Long battery life
Illuma-smart technology for perfect night photos
Browning Defender Wireless Cellular Trail Camera: An Incredible Tool For Game Scouting
Browning Trail Cameras are well known for being designed and crafted by an ardent group of hunters and outdoor enthusiasts who never cease to create the most innovative products with unmatched quality. Born out of such a holy mission, the Browning Defender Wireless Cellular Trail Camera contains everything you've wished for in an effective scouting tool.
Apart from the basic functions of a trail camera, the Defender Wireless also offers many advanced features hardly seen in any trail camera of other brands. Bet you'll be taken aback by the superior performance of this scouting device. Our following Browning Trail Cameras reviews will provide you with a comprehensive overview of this product's specs and details.
Remarkable features
Camouflage design for perfect concealment
What first strikes us about this trail camera is its camouflage cover. The cover provides superb concealment for this device, making it perfectly blend in the wildlife nature. You can mount this device to a random tree trunk, and it will be harmoniously fused with the lumpy scrub of that tree. In doing so, you will manage to hide this device in plain sight and protect your camera from prying eyes.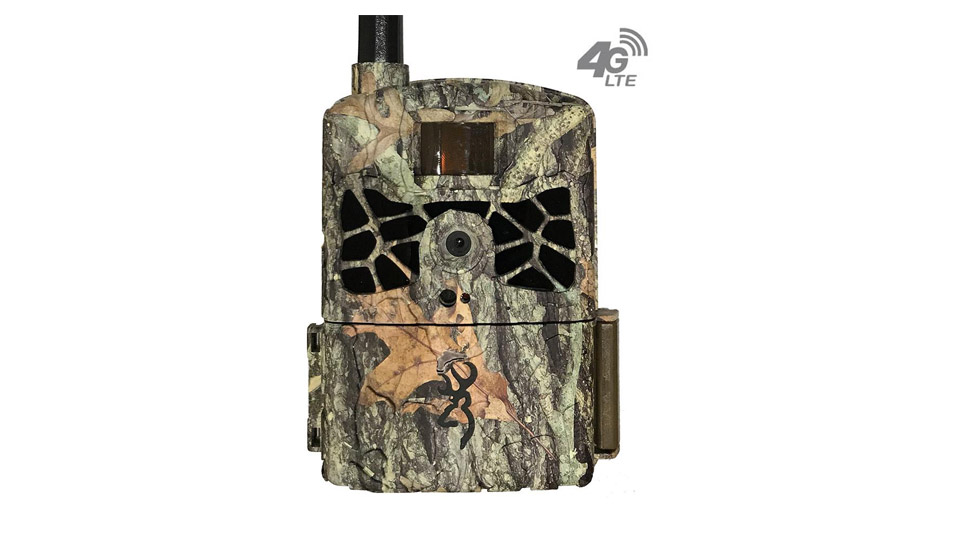 Browning Defender Wireless Cellular Trail Camera Review by TopFreeReviews
Infrared illumination at night
This Browning Cellular Trail Camera can operate at long-range low glow using Infrared flash mode; it can also turn completely indiscernible thanks to the Invisible built-in IR mode. We find this technological feature extremely useful for the game that gets scared easily at night or for a security application. You can also hunt and observe your moving objects more effectively with this advanced feature.
High-quality image transmission
Working on a reliable and nationwide 4G LTE network and the Strike Force Wireless management system, the Browning Defender Wireless Trail Camera is capable of transmitting full HD images from your hunting spot to your mobile device. With the help of this incredible duo, you will be surprised by how well you can observe and capture the pictures of your game.
Moreover, the 2" color display allows you to test the videos and pictures right in the field. The camera is laced with 20 MP pictures and a 1920x1080 FHD video processor, which gives you footage of the best quality. To download highly pixelated pictures onto the Browning Defender app, you'll need to subscribe to available monthly packages that vary in prices and numbers. So rest assured that you'll find the package best suited to your needs and expectations.
SD card management
This device supports SDXC memory cards up to 521GB, and that's huge storage. The slot for the SD card is spacious, so I find it easy to remove or insert my SD card. The SD card is not an item included in the product; hence, remember to buy one before moving to the Browning Defender Wireless setup process.
Our final verdict
A one-week test enables us to assess and measure the features' functions of this Browning Trail Camera. The result from the test helps us condense our feedback into these Browning Trail Cameras reviews, and wwe can confirm the high quality of pictures and videos that this device can capture. We believe this device can be in the best interest of both professional or newbie hunters. The only hesitation we have with this product is its price, but given what it can offer, we think the Browning Defender Wireless camera is worth every penny it costs.